Targeting
It has never been easier to effectively reach employees, no matter where they are. With our targeting feature, you can send personalized content to specific groups; for example, departments, locations, or offices worldwide. Make the content relevant for your audience and ensure everybody is on the same page, in or outside the office. Even send targeted content to individual screens; centrally manage 1 screen or 1000s, remotely, and globally with just a few clicks.
Statistics
Measurement matters. Gather valuable feedback on how your messages are performing. Have precise insights at your fingertips and measure the reach and impact of your employee communications with our statistics feature. See key statistics at a glance, such as reach, connectivity details, and click-through rate. Also, find out what content your employees appreciate. Track user engagement and discover helpful details such as reads, clicks, likes, and comments.
Notifications
Give your messages an extra push with our notification feature. You choose on which devices you want a notification to appear. It is just a matter of checking the box, and *Ping!* your messages now appear as a push notification on everyone's mobile device. You can also send out your message as a pop-up on every computer in case of urgent situations or use Windows notifications to be sure no one misses your message!
Branding
We're sure we love your beautiful corporate identity too! So let's definitely use it. Netpresenter respects your branding and enables you therefore to add your own logo, color palette, and fonts. It is your own corporate communication channel, so let's make it look that way too. Thanks to our templates, your messages look equally sleek on every screen, whether you display them via digital signage on large public displays, via screensavers on workstations, or in the app on mobile devices.
Scheduling
Let Netpresenter do the work and save yourself a lot of hassle with our handy scheduling feature. Create messages upfront and publish them at exactly the right moment. Also, take content down automatically when it is no longer relevant. Whether you need to publish an important corporate update at a specific time, want to create your own cybersecurity awareness campaign, or would like to celebrate everyone's birthday, with our scheduling feature, you're able to do so!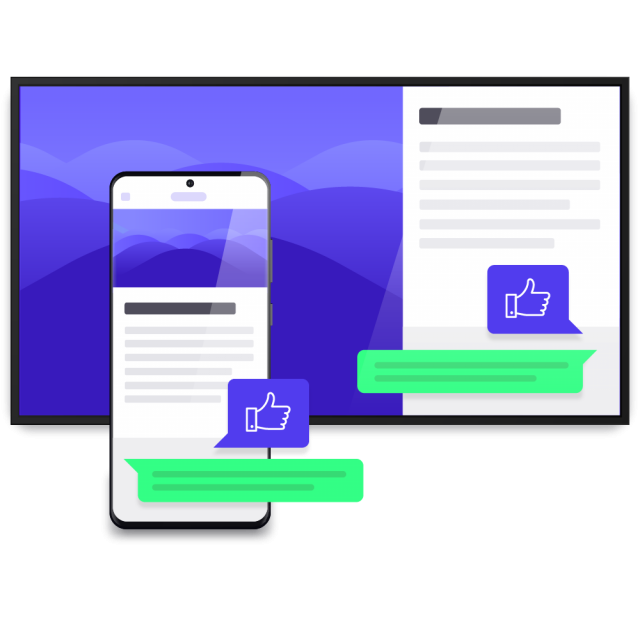 Social Interaction
Encourage social interaction in the workplace and make employees feel heard. Boost employee engagement by allowing your employees to give their opinion and let them interact with colleagues by sharing, liking, and commenting on corporate messages. Spread your core message and bring management and employees together in a two-way dialogue. Gather feedback, start conversations, and share important knowledge.
Schedule a demo
Seeing is believing. We would love to show you everything Netpresenter has to offer during a free demo
Multimedia
Spice up your corporate channel. Make your messages more appealing by using a wide array of beautiful templates and add multimedia and media objects to your content. Upload your own images, GIFs (yes, we love these too!), and videos, or go from Netpresenter directly to YouTube and GIPHY to find the right media asset to make your messages look extra good.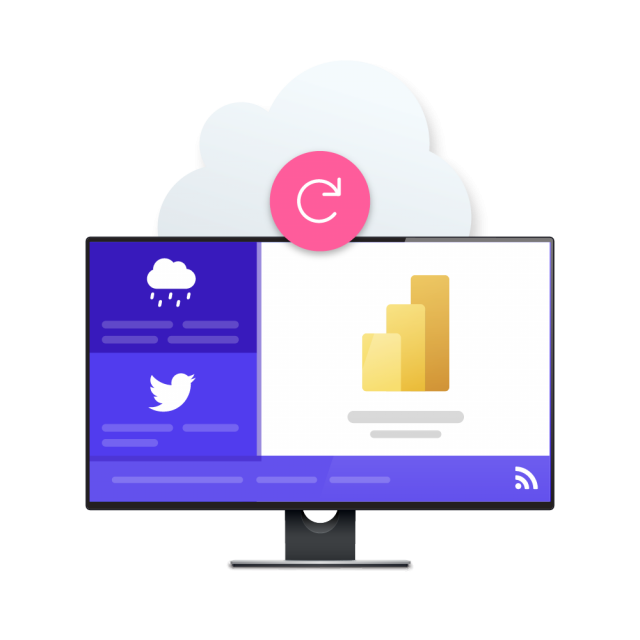 Dynamic Content
Save time and effort by automatically using content from multiple internal and external data sources. Netpresenter integrates seamlessly with the tools you already use, making it easier than ever to keep everyone informed and involved. You can integrate our platform with SharePoint, Power BI, Teams, database, or Social Media accounts to easily redistribute your existing content on every available screen. By integrating dynamic content, your business channel never gets boring!
Acknowledgments
Track down exactly who has received and read your alert. Even request people to confirm they are safe. Acknowledgment buttons in desktop pop-ups and in the app on mobile devices give you an exact idea of who has and – more importantly – who hasn't read your message. When employees click on the acknowledgment button, they will automatically be added to a response list, giving you a complete overview of the recipients and the time and date of acknowledgment.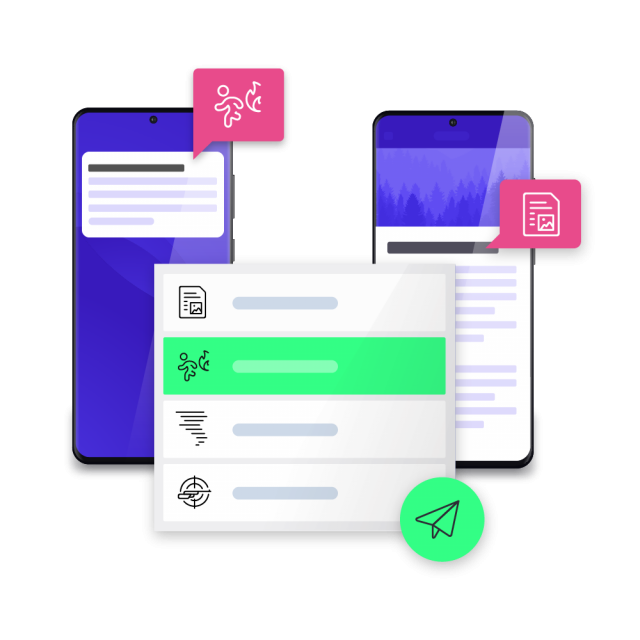 Easy Publisher
Create and publish content on the fly. Use the 'Easy Publisher' functionality of our app to easily create messages via your own smartphone, in or outside corporate walls. By powering up your mobile device with our News & Safety App you can also effortlessly trigger alerts directly from your mobile device. Simply push the right scenario button and the alert will be published to your selected channels and screens. Employee and critical communication have never been this easy!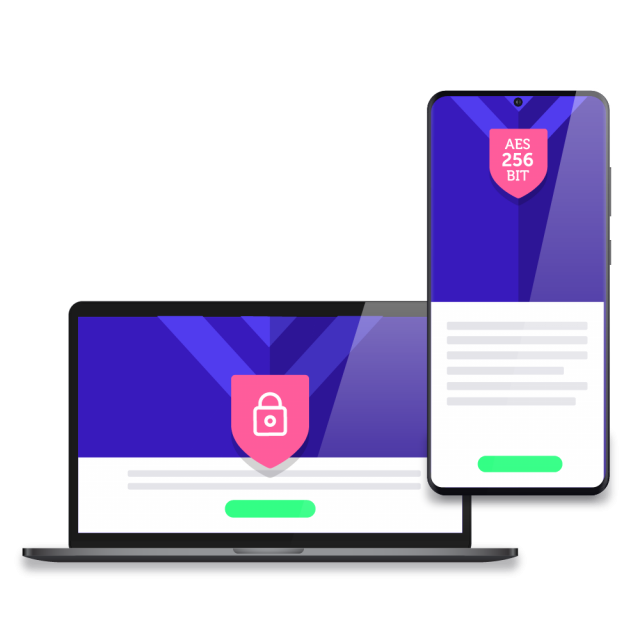 Security
The Netpresenter cloud platform is hosted in Microsoft Azure, which complies with ISO27001 and SSAE-16 standards to ensure your data security. All information is encrypted using TLS 1.2 and PFS, and access to Netpresenter is restricted to a core team. We perform daily backups and have an uptime guarantee of 99%!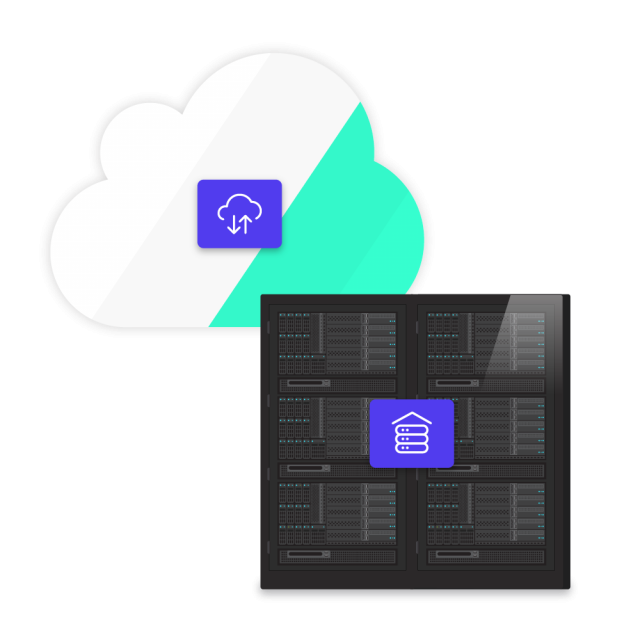 Cloud and On-Premise
Choose our secure and reliable cloud or on-premise solution to distribute your content to every connected screen or device. Use your own private cloud/server environment or Netpresenter's hosted solution – both give you the ability to scale quickly.
But wait, there's
even more