We know. Keeping employees informed, engaged, productive, and safe can be tough. However, with effective communication, it doesn't have to be. Luckily, this is exactly what Netpresenter stands for. No newsletters, memos, or an overload of emails for us, but a solid, integrated digital solution. We do communication differently; with an omnichannel approach and groundbreaking employee communications platform that transforms organizations into safe and thriving communities.
Communication pioneers
for a quarter-century
Over the past 25 years, we've seen the world of work change. Globalization, digitalization, and remote work have made reaching, connecting, and engaging employees more challenging. Our history, our customers, and our social responsibility have always inspired us to push the boundaries and reinvent ourselves. As the world changed, we changed. And now, our experience drives us to drive your change.
Our story so far
During his studies, CEO Frank Hoen founded his first company 'Eureka', which focused on set-top box technology and multimedia software. They were surely humble beginnings. Netpresenter 1.0, the world's first 'Digital Signage software' for PC, was developed right from a converted butcher shop in 1995. None the less, this prehistoric Netpresenter version, based on Amiga software, was well received by a few enthusiastic believers.
A few years later, the butcher shop made room for multiple offices in the USA, UK, and the Netherlands, and the first believers were joined by an extensive customer portfolio. On 9/11, disaster struck. Our US headquarters, based in one of the Twin Towers, was left destroyed. It was this tragic event that inspired us to see how we could use our software to keep employees safe in case of an emergency.
Now, users worldwide rely on our award-winning platform to communicate with their workforce and improve their organizations' safety. Not only on PC anymore, but literally on every screen.
Great communication
for
great organizations
Netpresenter is successfully being used by many large corporations, governments, and hospitals around the world. Some of the organizations we love working with:

Employee satisfaction up 33 percent thanks to 'on-screen' communication
Netpresenter is being used as a centralized method to communicate with all staff, patients, and visitors. The latest hospital news is now broadcasted on all 2,000 workstations and large screens in both public and restricted areas.
The only constant
in life is change
We agree with the old adage 'change the way you look at things, and the things you look at change'. It's in our nature to be innovative and constantly strive to find better ways of reaching and connecting every employee in any organization. Change, after all, starts with ourselves.
"The success of organizational change is led
by the power of communication"
Work hard, play hard
We move mountains with few people. We're young, we're ambitious, we trust and respect each other, and we stimulate each other to make the most of every working day. We work hard. But when we're done for the day, you can catch us playing FIFA or board games, join our ruthless nerf battles or have a beer with us on a Friday; whatever we do, we play hard, too!
Not just a bunch
of nerds…
At Netpresenter, we are a team of many different people, working at many different levels, within many different areas – but there's one thing that we all have in common: we are proud of what we do! 
Netpresenter is growing,
grow with us
The only way to create brilliant things every day is to work with brilliant people who truly enjoy their job. And as cheesy as it sounds, we genuinely love what we do. Are you as passionate about technology as we are? Then you will fit right in!
Do what you love,
love what you do
We're all connected by the same thing: we do what we love, and we love what we do. We work in a collaborative atmosphere, which empowers us to make a difference each and every day. Teamwork makes the dream work!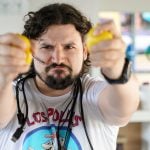 Chari Karipidis
IT-support Engineer
'Which IT professional wouldn't love to work in a Google-esque work environment?'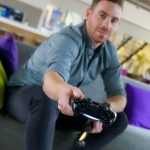 Luc Bormans
Head of Marketing
"My work is a lot of fun, our "afterwork" activities might be even more fun!"
Julie Bellinkx
Communication Specialist
"No day at Netpresenter is the same, that's what makes it exciting for me!"
Did you know?
We're the company
behind AMBER Alert
When a child has gone missing and the police believe the life of this child is in imminent danger, entire countries transform into one large missing children's poster with the help of our technology. Discover how we activate millions of people in the search for missing children.