Our 5 best digital signage templates
Templates are essential for proper digital signage. Thanks to templates, messages look great in no time. Your content needs to look equally sleek on every screen, whether you display it via digital signage on large screens, via screensavers on PCs and laptops, or in the app on mobile phones. With dozens of templates to choose from, we understand if you can't see the forest for the trees. That's why we made an overview of the best digital signage templates used the most by our customers. We hope it inspires you to create great digital signage content!
New Employees
Making new employees feel welcome should be an integral part of any onboarding program. That's why many of our customers use custom templates to welcome new employees. Thanks to the photo and the introduction text, the other employees learn more about their new colleague as well. This way, it's easier for your employees to have a water cooler chat with their new colleague, or to welcome them digitally if they're still working from home.
SharePoint
It's a common issue: your organization uses SharePoint as an intranet, but hardly anyone reads the messages. More and more organizations increase traffic to their SharePoint instantly with our SharePoint template. With this template, you automatically show the latest messages from your SharePoint on every screen in your organization, ensuring no one ever misses a SharePoint message again!
Also read: 5 Tips to give your SharePoint user adoption a boost

(Live) Videos
Got a video to show, like a new advertisement or a news item? You can easily display it on all screens in your organization! It is also possible to add a live feed, for example, to show remote workers how things are at the office.

Traffic
At the end of the day, those that travel by car want to know if they can expect any traffic jams on their way home. Even during the day, some employees must hit the road, whether that is to visit a customer or to deliver goods. With this template, you will never have to face unpleasant surprises again. We're not suprised that this is one of the most popular templates among our customers.

The Weather
It's on people's minds almost every day: the weather. That's why almost all of our customers chose to implement this template. Do you have to bring an umbrella or not? Can you take a stroll during lunch break, or catch some sun rays in the garden or on the balcony if you're working from home? With our weather templates, everyone knows what's up. The actual weather report appears upfront, with a matching dynamic background. The template also shows the forecast for the next five days. The weather can be displayed full screen, or in combination with a small footer showing your company logo, the current time or news headlines.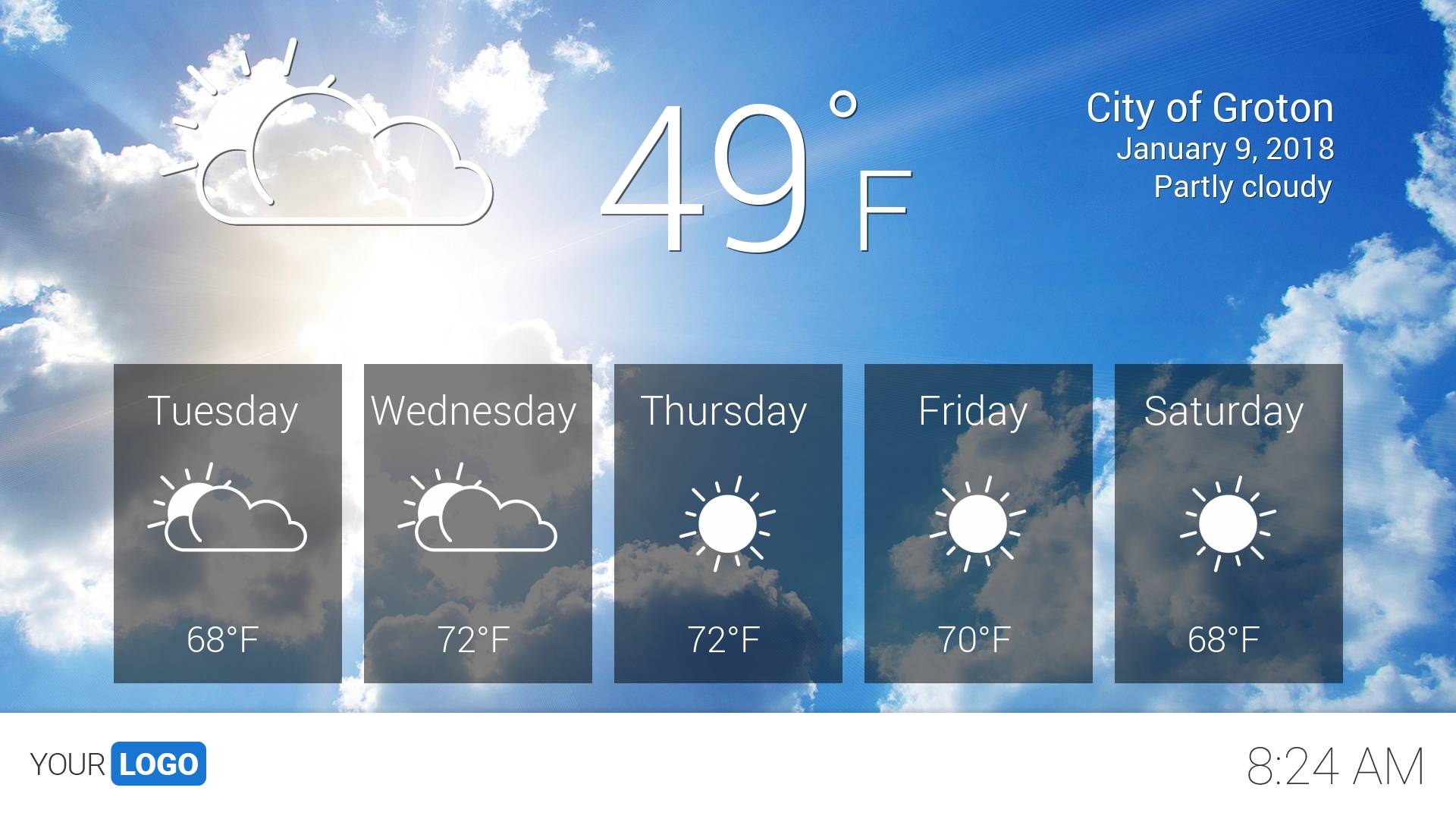 We also have templates for social media, data from Excel and Power BI, news, calendars, and much more. It goes without saying that our templates can be personalized as desired, with your company logo or the colors of your corporate identity. Do you have a special wish? No problem at all! We can even create wholly customized templates for your organization. Whether you already know what you want, or just want our help to examine what your organization needs, don't hesitate to contact us.