Employee satisfaction up 33 percent thanks to 'on screen' communication
In 2007, The George Washington University Hospital (GWUH) selected Netpresenter to communicate with its staff, physicians, visitors and patients. The latest hospital and healthcare news is now broadcasted on all 2,000 work stations, as well as on large screens in the elevator bays, main lobby, and physician lounges. The result: more consistent communication and an increase in employee satisfaction with hospital communication of 33 percent. The first real proof of concept was the inauguration of president Obama, taking place just blocks away from GWUH. During the inaugural festivities, the GWUH communication team managed to stay on top of hospital communication by continuously updating staff via the interactive PC screensavers and presentations on the large screens. An approach proven to be highly effective in the inaugural rush. "I don't know how we would have managed such an event without this tool", admits Tegethoff. "We used Netpresenter extensively to communicate with staff on inauguration preparations and updates. On the day itself, we sent out security updates, sleeping arrangement details, command center instructions, and transportation updates through Netpresenter."
Targeting of messages a big plus
GWUH targets its different audiences – nursing staff, physicians, visitors and patients – with specific messages. "The large flat screens in the lobby are used for broadcasting a word of welcome to the visitors and opening hours of the gift shop and cafeteria, while the monitors in our public sites bring more marketing focused content to the attention of visitors and patients", explains Tegethoff. "For staff PCs and large screens in the restricted areas, the presentation includes messages from key departments, as well as general hospital news. The fact that we can target specific audiences or locations with our messages, is a big plus for us."
Staff effortlessly up-to-date
The first messages employees see are those in the alert channel: urgent news such as IT upgrades expected to disrupt the system and news on drug issues from suppliers. The end of the rotation always consists of three news items from Yahoo! Healthcare. "These are automatically imported via a Really Simple Syndication (RSS) feed. A great feature for employees that have not had time to follow the latest healthcare news," explains Tegethoff. "We also have our Facebook and Twitter account linked with Netpresenter."
Increasing intranet visits
"Additionally, we use Netpresenter to reference to our intranet", says Susan Griffiths, Marketing & Public Relations at GWUH. "This is the place where we store most of our information, so a lot of the content that is posted on Netpresenter will point back to there. By adding hyperlinks to our messages, people can click through right away to the full information on the intranet."
Digital direction
"Before we had a static directory which was old and incorrect", says Griffiths. "We replaced that with a TV screen that is managed through Netpresenter. This screen shows where all the locations are in the hospital. Unlike our old directory, our digital directory can be updated right away and with ease. We are located right above the subway station. It is literally right outside the lobby of the hospital. With Netpresenter, we are also able to put the next trains that are coming on that directory, which is really cool. The weather forecast is shown as well."
Employees more satisfied with communication
Three months after the initial roll out phase, an internal survey showed employee satisfaction with hospital communication improved by 33 percent. "A healthcare facility is no different than any other organization, the fact that communication is key. Netpresenter is a really great way to reach people because you're going to them where they already are: behind their computer or moving around the hospital", concludes Griffith.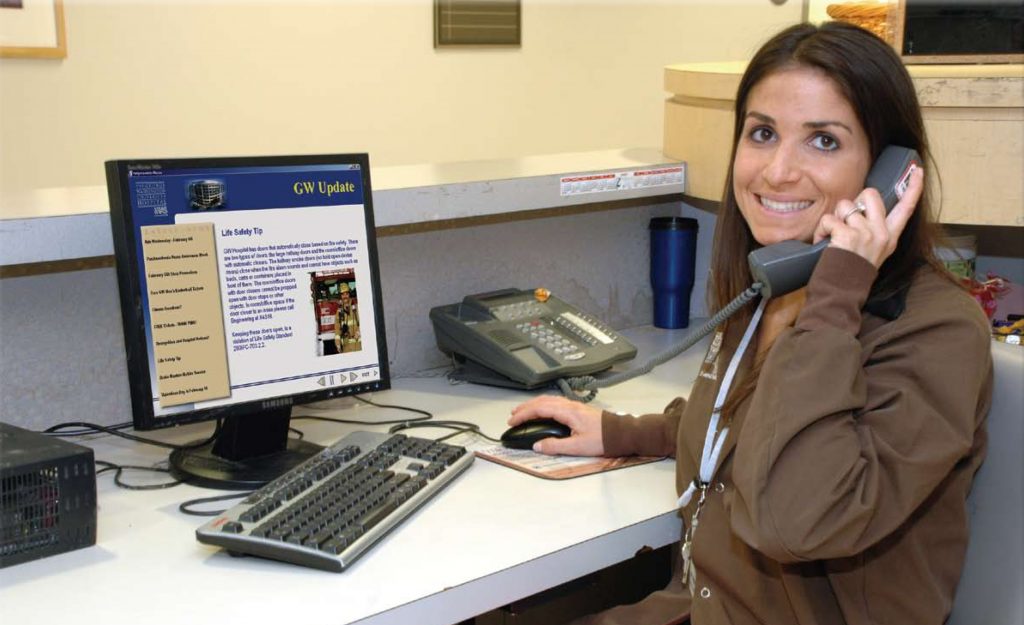 About the George Washington University Hospital
The George Washington University Hospital is a multi-disciplinary, tertiary care hospital, offering many diverse services all in one central location. A century-long tradition of providing medical care in a comfortable and convenient environment means peace of mind for the thousands of patients that are cared for by the doctors and nurses at the hospital each year.