Netpresenter ❤️ Microsoft Teams: brand-new integration now available!
This year, Microsoft Teams became the place where colleagues go to interact with each other. Over 75 million people use Teams daily to (video)call, chat, and work together. How great would it be if you could deploy this program for your internal communication, too? We are proud to announce that, from now on, that is possible with a brand-new Netpresenter integration with Microsoft Teams!
This unique, innovative integration reinforces both Microsoft Teams and the Netpresenter platform.  It includes a two-way exchange of content. The connection brings back the overview to Microsoft Teams and makes it accessible to everyone. Also, Teams becomes an integral part of your omnichannel communication platform that allows you to reach your entire organization easily.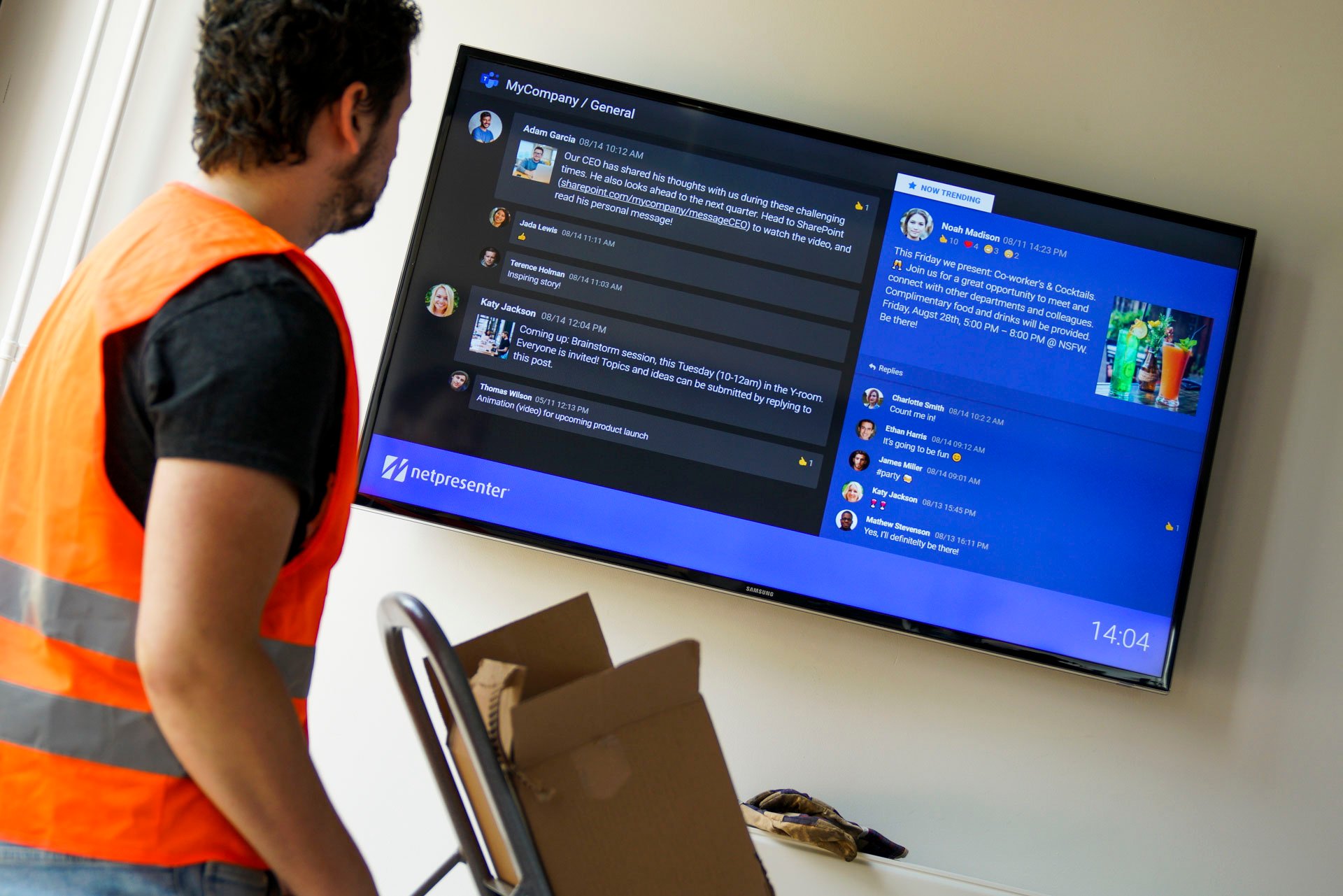 1. Teams: organized and accessible for everyone
The sudden intensive use of Microsoft Teams leads to an increase in notifications, announcements, team discussions, and chats in many organizations. It is a jumble of information that causes the most important messages to get lost and causes employees to lose the overview. For our integration, a smart algorithm selects the most relevant content from pre-selected Teams channels. The content is then displayed automatically on all screens within your organization, including large screens in canteens and screensavers at workstations. These screens will show content such as the most recent messages from a specific channel, and the messages with the highest engagement, such as likes and reactions.
Urgent notices, announcements, and updates remain prominently visible, even with intense usage of Microsoft Teams. So, whether it is the CEO who wants to make an announcement or a project group that wants to give an update – one message in Microsoft Teams is enough. One message in Microsoft Teams is enough – our software ensures that everyone sees the message immediately. Even employees who typically have limited or no access to Microsoft Teams, e.g., production employees, drivers, or healthcare personnel.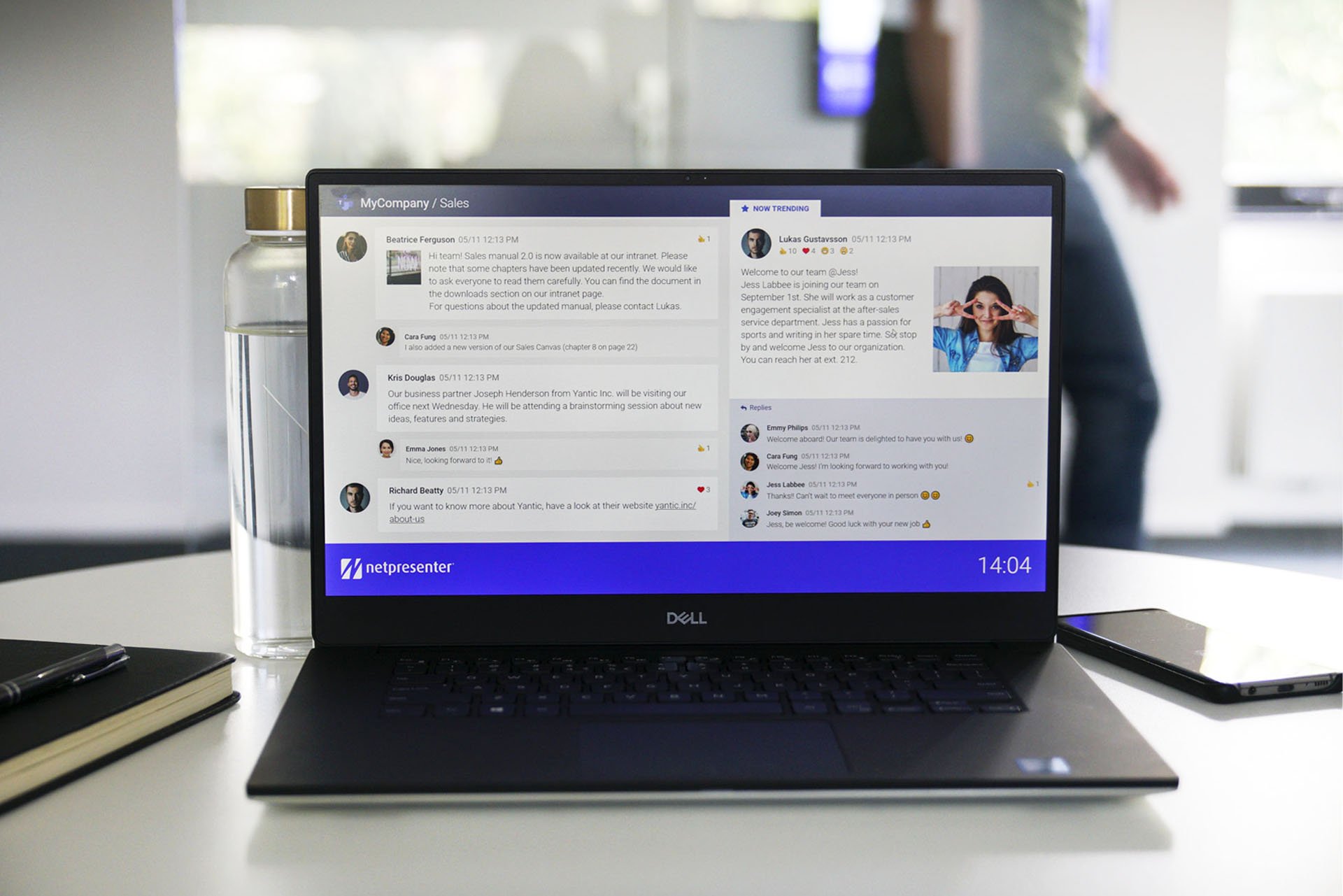 2. Teams: part of an omnichannel solution
The new integration also enables you to publish messages from Netpresenter directly to Microsoft Teams. The Netpresenter platform has always allowed publishers to publish content on large screens and workstations and in your company app simultaneously. The new connection to Teams adds another output: messages will automatically appear in selected Microsoft Teams channels at the push of a button – no need to take any additional actions. This way, you reach employees where they daily chat, and you will be sure that your message will not pass by anyone, regardless of your employees' dedicated work location.
Good to know, too: the connection to Teams only must be configured once. After that, everything works automatically! Once everything has been set up, Microsoft Teams functions as an additional communication channel that enables you to effectively reach your workforce effectively and serves as an additional content source, as we did before with SharePoint and Power BI. So, your organization will have all the resources you need to bring crucial information to the attention of your staff, even at a time in which working from home is the norm.
Sounds good, right?
Are you our customer, and would you like to know how to roll out the integration with Microsoft Teams within your organization? Or, are you not yet our customer, but did you get curious about all the possibilities for your organization?
Click here for more information and contact us for a free demo!