Measurement matters: Create the right Corporate Content with Netpresenter's Statistics feature!
Is your corporate content engaging enough? Are your messages reaching the right public? Is your website equipped with the right tools to measure campaigns or track leads? Start measuring now! Our new hot Statistics feature is finally here to help you! See how your messages are performing in just a glance.
Measurements matters
Collect relevant data to gain insight into the performance of your corporate content. Your statistics dashboard won't only show you the reach and impact of your messages, it also gives you accurate information about the number of devices, the type of devices your message was shown on and the CTR, Click Through Ratio. But, there's more! It also tells you the exact number of devices that are, or were, connected, how many of your messages are active and the number of published messages. This way, you can create a content strategy that works for your organization or optimize what you're already doing!
LIKE what you see?
Getting enthusiastic yet? Be prepared, because we've got more for you in store! With our new feature, you can also discover if your messages are being appreciated by your employees. See how engaged they are and enable them to click, like and comment on your messages. This way, you can figure out which message performed best and adjust messages to use Netpresenter to its fullest.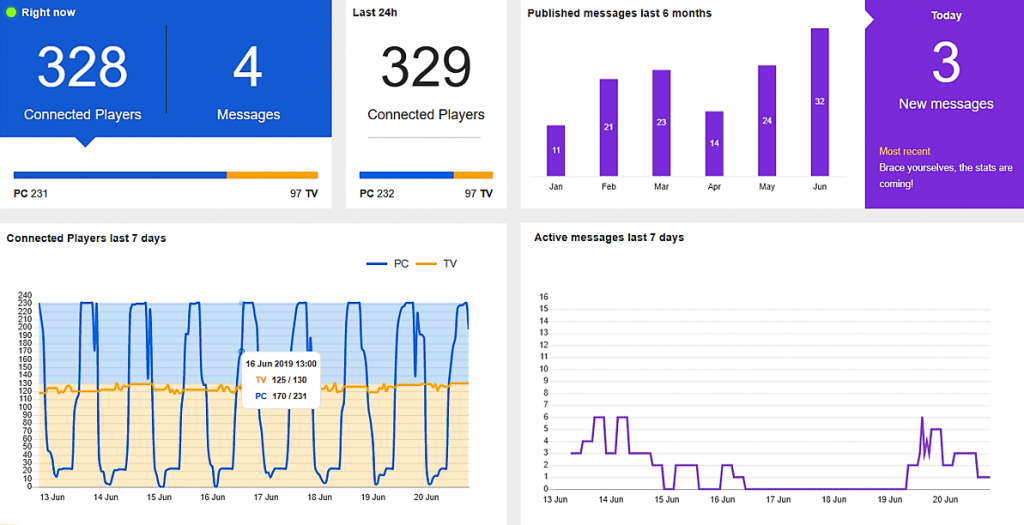 Maintain to measure
Once you start collecting data, make sure you maintain it. Consistently measuring your messages and website, will enable you to determine what's working and how you're performing compared to your competition. Regularly analyzing your content, how your website ranks and what your competitors are doing, will ensure you of a content strategy that fits perfectly to your organization.
More exciting new features
Besides the statistics feature, the improved Message Server got upgraded with some other fantastic features as well. For example, you're now able to enrich your messages with GIFs and let your notifications stand out even more by publishing them as a pop up or push message on every connected screen. Therefore, we added some extra options to the Message History. We also improved the Media Gallery, Template Gallery and Color Themes. For all the exiting new features, download our Release Notes.
So, what are you waiting for? Start measuring today! The update is completely free of charge with a valid support contract. In need of more information or support? Contact us or ask for a free demo. We're happy to help!