Employee Engagement
30 January, 2020
How to improve employee engagement with an employee app
Employee engagement is high on the agenda of many companies. According to Deloitte, over 80 percent of executives rate engagement as 'important' or 'very important'. Understandable, if you just look at the positive effects high levels of employee engagement can have on organizations. Engaged employees are 57 percent more effective and are less likely to leave the organization. As a result, organizations with engaged employees achieve more than twice as much growth. An employee app can be an excellent tool to improve employee engagement.
Communication plays a major role in employee engagement. Employees crave to be heard and recognized. Additionally, they prefer a flexible work environment. They also appreciate transparency, honesty and inspiration. For these reasons, some companies invest in custom-made employee apps, while other use out-of-the-box solutions such as Slack and Microsoft Teams. Many of our customers use our News & Safety App.
Regardless of which solution your company uses (or will use), with these guidelines you'll increase employee engagement at your organization.
1: Put employees in the spotlight
Recognition, but also inclusiveness and a fair working environment are important factors when it comes to employee engagement. That is why it is important to put employees in the spotlight from time to time. By doing this, you show that all milestones, both big and small, matter and people's actions are appreciated.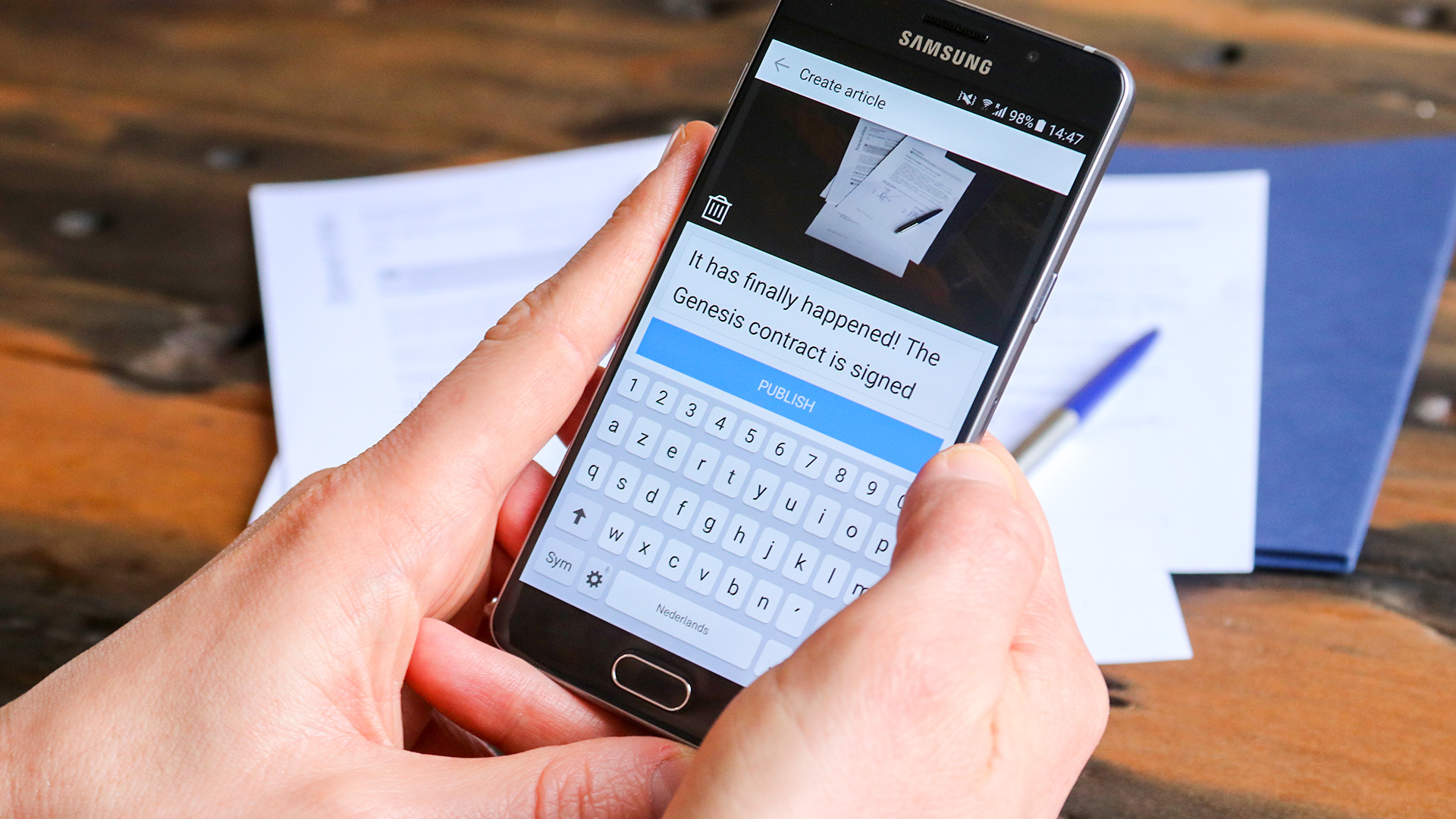 An employee app is a great way to do this without too much hassle. Whether it's a professional achievement like bringing in a new customer or processing a record number of orders, or more personal matters: everything can be posted in the employee app. At Netpresenter, for example, we always post a message in the app for someone's birthday. We also introduce new colleagues in the app on their first day. That way, we never forget anyone, and we create a pleasant, equal working environment. So don't just reserve your company app for 'big' news. Open a channel for personal news as well. Ultimately, it is this type of news that increases employee involvement.
2: Make employees feel heard
Good (business) communication is a two-way street. If, as a company, you are only sending messages and don't offer an option for people to reply, you never hear what your employees think or want. But sending e-mails, especially CC's, back and forth is not the solution. In fact, the overload of e-mails is literally making people sick. No wonder platforms like Slack and Microsoft Teams have taken such a flight in the past (roughly) six years. With apps like that, you can respond directly to messages and news, and keep the conversation going in one place.
At our office, we go even further. Messages that we publish in our employee app automatically appear on our digital signage screens as well – including everyone's reactions and replies. It takes the best of both worlds: no (pop-ups of) e-mails bothering you during your work, and you're not left out of a conversation either, which might happen with chat apps as long as no one mentions or tags you. By using other screens as well, you'll also see messages and reactions on your way to the coffee machine! This way, you'll immediately know when you need to reopen the app to join the conversation.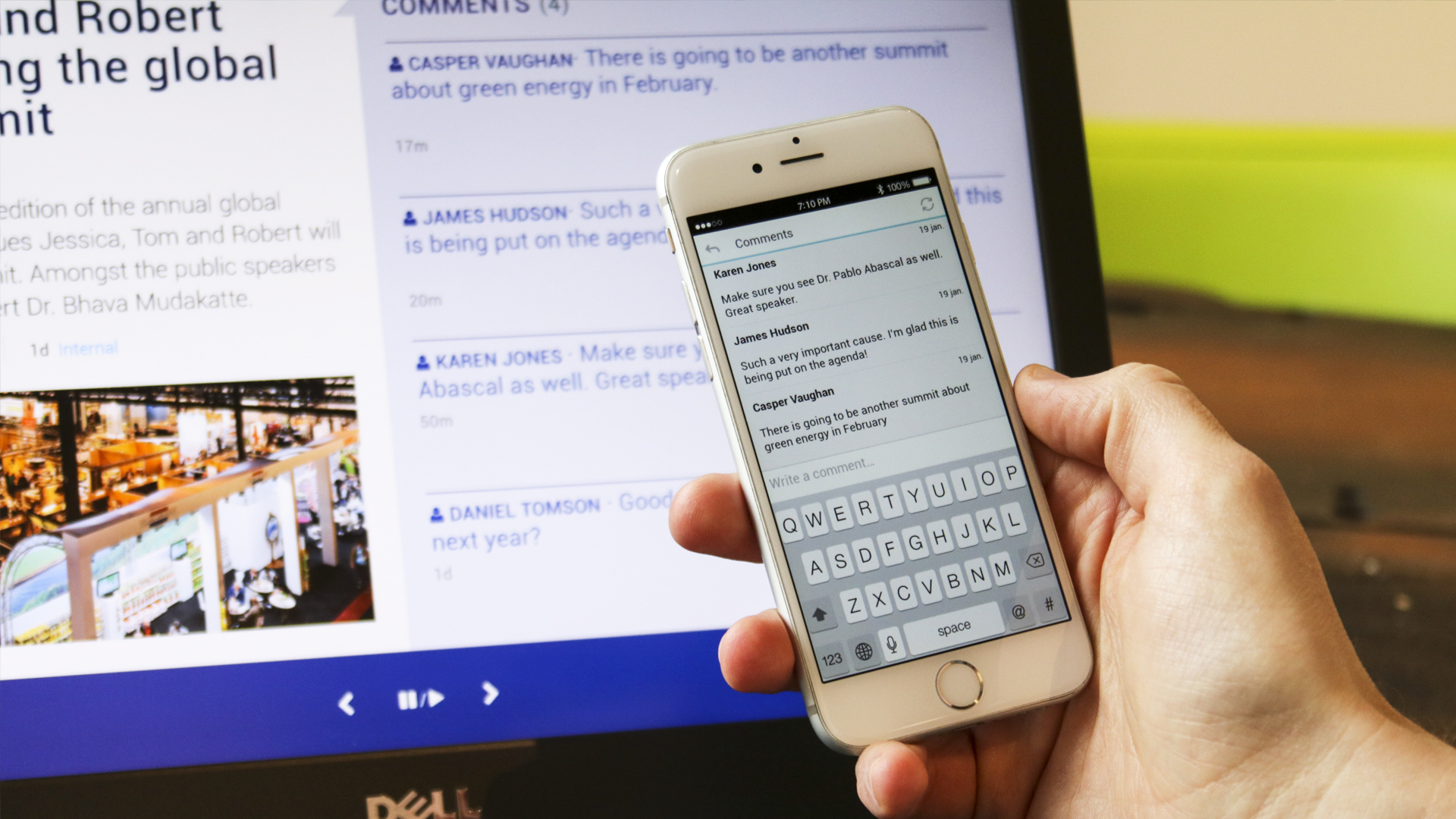 3: Send out a push notification when it really matters
Sometimes news concerns everyone – even employees who are not on location, or even on holiday or leave. Especially in case of major news (or even an emergency), it is important that everyone is informed at the same time. An employee app can send out push notifications to everyone's mobile phones.
But with such a powerful means of communication comes great responsibility. Research conducted at Manchester University, for example, shows that (an excess of) e-mail only causes stress. Of course, you don't want your company app to suffer the same fate; frustrated employees might even disable the push notifications on their phones. Think carefully before you send out a push message or use '@channel' in your chat application!
A good employee app combines the best of news, e-mail, social media and chat applications. But in the end, it's the way your company uses such an app that counts. Do you want to become a real 'Content King' (or Queen)? Take a look at this free whitepaper.