University of Applied Sciences Utrecht shares news digitally across campus
University of applied sciences Utrecht (HU) boosts its internal communications with Netpresenter. Nowadays, 35,000 students and 3,500 employees are kept up-todate through our communication software. With success. No less than 80 percent feels better informed. "It all started at the Faculty of Economics & Management, now there are screens everywhere and everybody knows Netpresenter," says Meral van Leeuwen, Corporate Communication Advisor and Editor.
"We've been using Netpresenter for a very long time, perhaps 15 years. We use it more and more for sustainability purposes. We've almost completely cut print as a means of communication. In the past, we handed out flyers or put up posters, now news is being distributed digitally across campus", says van Leeuwen.
Students effectively reached
"I think it's a good tool, especially for students. This is just a very tricky audience to reach. They want to stay informed, but usually not through their school mail or the intranet," laughs Van Leeuwen. "They are used to visual content and Netpresenter is very well suited for that. It really has a big impact."
Customized information
"In the six buildings on our campus, special student areas have been constructed. Each student area is dedicated to a specific group of students, for example ICT, business, communications,… With Netpresenter you can customize the content that is shown on the screens in those areas. This way, students only get to see the information that is relevant to them, which is great!"
80 percent feel better informed
In order to see whether Netpresenter really did improve its internal communications, HU conducted a user survey. The results were truly mind-boggling. 80 percent said they felt better informed. "The reactions are very positive", according to van Leeuwen. "Students often say: "I saw it on the screens" This is exactly what we hoped for!""
Additional alerting tool
In the near future, Netpresenter will also be used as an additional alerting tool. "When an incident occurs, the alarm goes off", says van Leeuwen. "However, we have quite a large group of deaf and hearing-impaired students and staff members because we offer a sign language course. Netpresenter is the ideal alerting tool to deploy to reach this specific group of people because it focuses on visual alerts rather than audible."
Improves overall look
"Netpresenter just improves the overall look of your school. We even use images shot by professional photographers in our Netpresenter presentation, which makes it really stand out. Recently, we have also started displaying Facebook posts, traffic information and train schedules on our screens. That this addition has been well received is an understatement."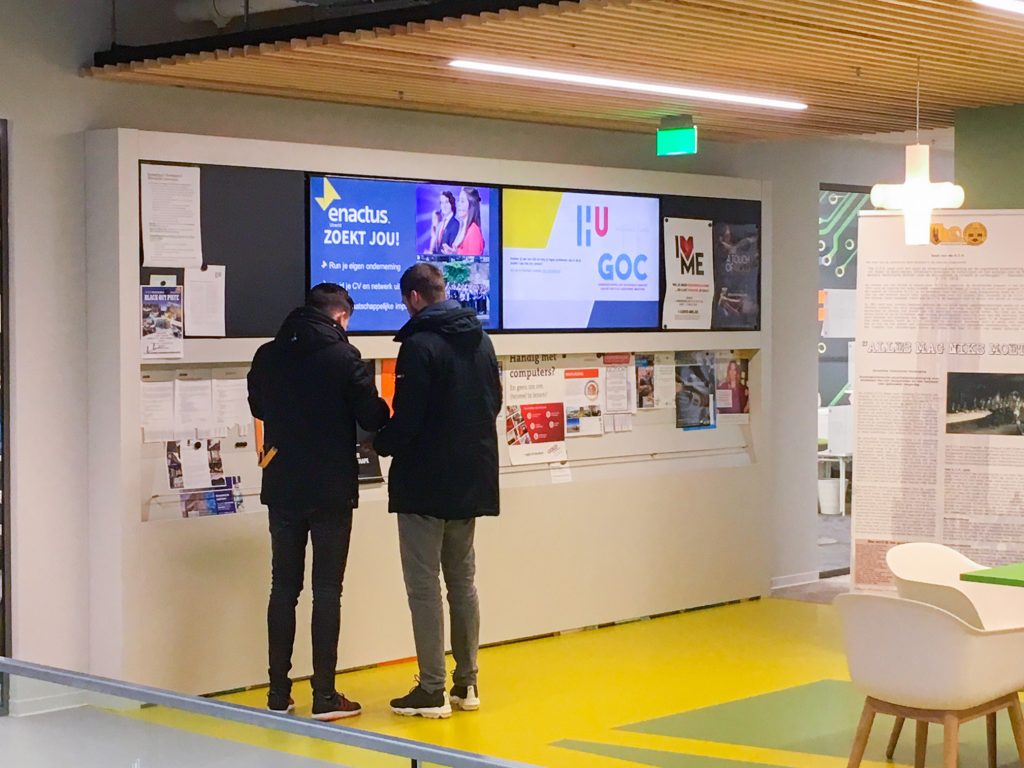 More popular every day
"Netpresenter is becoming more popular every day. We receive requests on a daily basis. What I personally find really funny is that there are so many requests to share something through Netpresenter, that we have to be very strict. We have to disappoint people once in a while. We do not want to become victim of our own success, of course", van Leeuwen jokes.
About University of Applied Sciences Utrecht
The University of Applied Sciences Utrecht is an ambitious university in dynamic surroundings. As a university of applied sciences, they provide education and conduct research. They train – future – professionals who are highly in demand in the labor market and are inextricably tied to the Utrecht region. The link between education, research, and the professional world enhances its regional impact.