Researching 'Digital Signage-driven' social media
Saskatchewan Research Council (SRC), provider of smart science solutions™, uses 300 PC screens and 11 flat panel monitors to continuously keep employees up to date on the latest internal news and to inform visitors. In addition, SRC recognizes the growing importance of social media. Therefore the organization is currently looking into using Netpresenter to power the SRC Twitter and Facebook accounts.
SRC has offices in three different cities. "It is great that content now extends to all three locations, but even better that it does not stop there; it also extends to the five to ten per cent of the employees that are travelling via VPN connection. So the travelling employees are now also updated on new employees, awards, quick facts on process changes, event announcements and organizational changes," states Chuck Ingerman, IT Manager at Saskatchewan Research Council.
Hundreds of PC screens as instant displays
"Before Netpresenter, we used e-mail, intranet, website messages, printouts that were posted in strategic places and word-of-mouth to keep employees informed. In 2009, we decided to implement Netpresenter as an additional method to disseminate information to employees with no access to email or intranet web announcements," says Ingerman. "The reason we selected Netpresenter, is that it allowed us to use 300 PC screensavers as instant displays. Our PCs are located in open areas, so people walk by and look at the screens all the time. We also use the software on TV screens, which is an added bonus." In addition to the PC screens, Netpresenter now runs on 11 flat panel monitors at SRC. Eight of these are installed in large employee work areas, such as labs, and display internal information. The other ones are mounted in the IT department, in the main reception area and, most recently, in the CEO's office reception area to display information the CEO felt was relevant to clients and employees attending meetings in that area.
Employees value the tool tremendously
"Netpresenter has had a significant impact on our employees. The key indicator for me is what I hear in hallways. For example, someone quoting information distributed only through Netpresenter." says Ingerman. "In addition, quite a lot of the ideas for messages come from employees. The fact that employees who have a story are keen to get it published on Netpresenter, to me, means they value the tool tremendously."
Tying in social media
"I definitely see the positive effects of social media and believe it will continue to influence how corporations do business. At SRC, we added social media to the internal communication mix. We now use LinkedIn, Twitter and Facebook. To ensure we only have to enter information once, and get it distributed to all media, we are currently thinking about using the Twitter link in Netpresenter. We would also like to be able to publish the information from Netpresenter to Facebook with one click. Therefore, we are currently reviewing the latest Netpresenter version that will allow us to do just that. The same solution could be used for external information, such as the brief announcements we already publish on our external website."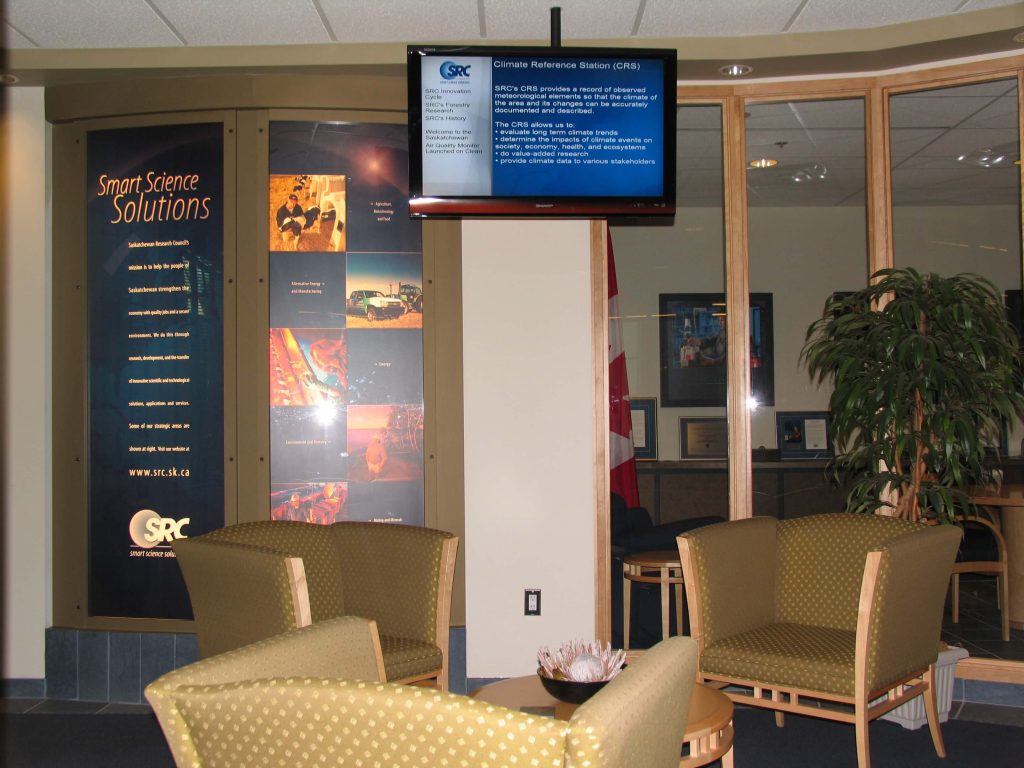 Netpresenter for emergency communication
Ingerman adds: "In the future, we plan to start using Netpresenter Media Server to automatically publish external newsfeeds (RSS). When we do, we will probably start with news related to the province of Saskatchewan, such as provincial government announcements, and perhaps include other dynamic content such as weather maps." "Another thing we are currently considering is the use of Netpresenter for emergency communication. Safety is the overriding priority at SRC. Therefore, we are now working with our Safety team to strengthen the current emergency notification strategy, allowing us to instantly notify the employees impacted by the safety alert, as well as notify key stakeholders who may be offsite during the incident. Ideally this would include overhead paging, phones and email, alarms, as well as Netpresenter.
About Saskatchewan Research Council
Saskatchewan Research Council (SRC) is Saskatchewan's leading provider of applied R&D and technology commercialization. SRC was established in 1947 to advance the development of the province in the physical sciences. The corporation has more than 420 employees working in its offices in Saskatoon, Regina and Prince Albert, Saskatchewan, Canada. Annual revenues are approximately $50 million and growing.