Perfetti van Melle & Netpresenter: 'A sweet collaboration in corporate communication'
The sweet smell of candy immediately puts a smile on your face when you enter Perfetti van Melle's factory. In the plant, which produces popular candy such as Fruitella, Mentos, Smint and Chupa Chups, thousands of sweets are made daily. But when all employees are working around the clock to satisfy our sweet tooth, how are they informed about the latest company business? The answer: A sweet collaboration with Netpresenter.
'Something about digital signage'
Six years ago, Netpresenter and Perfetti van Melle met each other. Lieke van Aalten, Corporate Communications Manager at Perfetti van Melle, immediately knew she had found the perfect solution to the corporate communication problems the factory was facing. "I remember we heard something about digital signage. I instantly knew that this would be THE solution to better and more quickly inform our people, especially our production personnel." Shortly after, screens displaying corporate information, were hanging throughout the entire building.
Battle of the screens
The organization first put up screens in its factories. Not in the production hall, but, because of safety reasons, in the coffee corners and the canteen. Initially, their employees couldn't appreciate the screens. "In the beginning, it was an internal struggle between me and the production staff. Screen on, screen off, screen on, screen off, etc. Eventually, I won", Van Aalten laughs. "The staff now even comes to me saying: 'Hey, the screen isn't working'. So, everything turned out all right."
Nice-to-know info
At first, the candy company only showed corporate information on its screens, but that has changed. "We started to display facts and company news, but nowadays, we include nice-to-know information. We also try to direct our employees to SharePoint, so they can register themselves, for example, for training sessions and activities. Besides that, we also show the newspaper headlines. We do notice that we need to constantly have the latest news displayed on our screens. Otherwise, our staff gets bored."
More involvement
And guess what? It works! "By sharing company news and fun information, we notice that our staff is feeling, and getting, more engaged. They are quickly informed, and the messages are a topic of conversation on the work floor. Just yesterday, I received an e-mail: 'Hi Lieke, I'm missing some information. When will it be on the screens?' Mission accomplished, right?"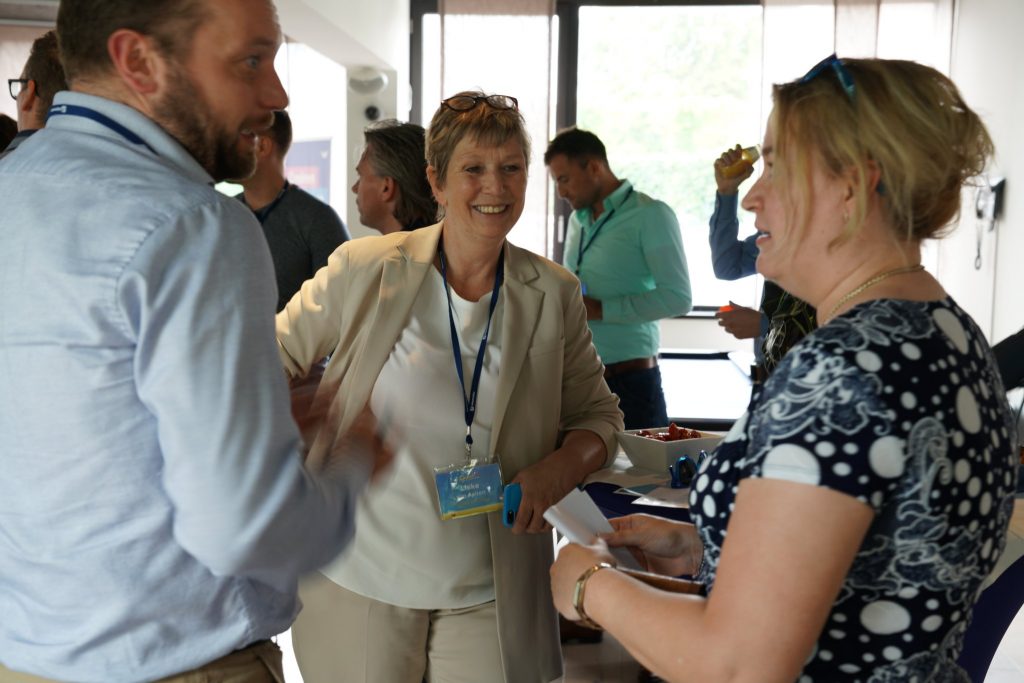 Bright future ahead
Lieke is very pleased with the collaboration and Netpresenter's service. "What I really enjoy, is that they often update me about new things: new developments, new technologies, etc. This is not always the case when dealing with an external partner. At Netpresenter, they already provide me with all the necessary information before I'm able to even ask the question." When it comes to the collaboration, the corporate communications manager sees a bright future ahead. "I look forward to learning more about what Netpresenter has to offer. I'm especially interested in Netpresenter's ability to connect with SharePoint. Very exciting stuff!"
About Perfetti van Melle
Perfetti van Melle is an international company which produces
and sells sweets and gums like Chupa Chups, Mentos and Smint.
The story of this family business begins in 1900 in the Dutch
village Breskens. In 2001 Van Melle merged with the Italian
Perfetti and a few years later, the Spanish Chupa Chups joined.
Nowadays, the candy manufacturer has more than 17.000
employees working at 31 locations worldwide. Perfetti van Melle
produces over one hundred million pounds of sweets.