"Intranet more popular than ever thanks to Netpresenter"
At Rotterdam World Gateway (RWG), the world's most automated and innovative container terminal, 250 employees work 24/7 to process 2.35 million containers every year. To provide office staff and operational staff in the port of Rotterdam with the latest intranet news items around the clock, RWG uses Netpresenter. "The intranet is now more popular than ever", says Niels Dekker, Public Affairs & Communication Manager at RWG.
"RWGnet, that's the name of our intranet, is the main communication channel at RWG", Dekker explains. "This enables us to reach the group of employees who have their own computer or laptop. But we also have a large group of employees who do not have their own workspace, such as our remote operators. "Now, how do you effectively reach these people?", we wondered."
Large screens with intranet headlines
"We have large screens hanging in both our office buildings and the terminal. We wanted to stream the intranet on those screens in order to inform our non-desk workers. But that turned out not to be as simple as we had imagined. Luckily, now we have Netpresenter to act as a sort of intermediary to automatically display a condensed version of our intranet on these screens."
Screensaver for office workers
"We also use the Netpresenter screensaver to bring the intranet to the attention of our office staff. When the screensaver pops up on their computers, intranet news items are automatically displayed. If they want to know more, they can simply click on the item and they will be redirected to the full news item on the intranet. RWGNet is not always used by everyone to read the latest news. Netpresenter is an extra way to share this information with our staff and encourage them to make use of the intranet."
Intranet grown in popularity
"The popularity of and traffic to our intranet has increased considerably since we started using Netpresenter. This was measured. Intranet messages are really better read. Therefore, Netpresenter has definitely contributed to improving our internal communications", concludes Dekker."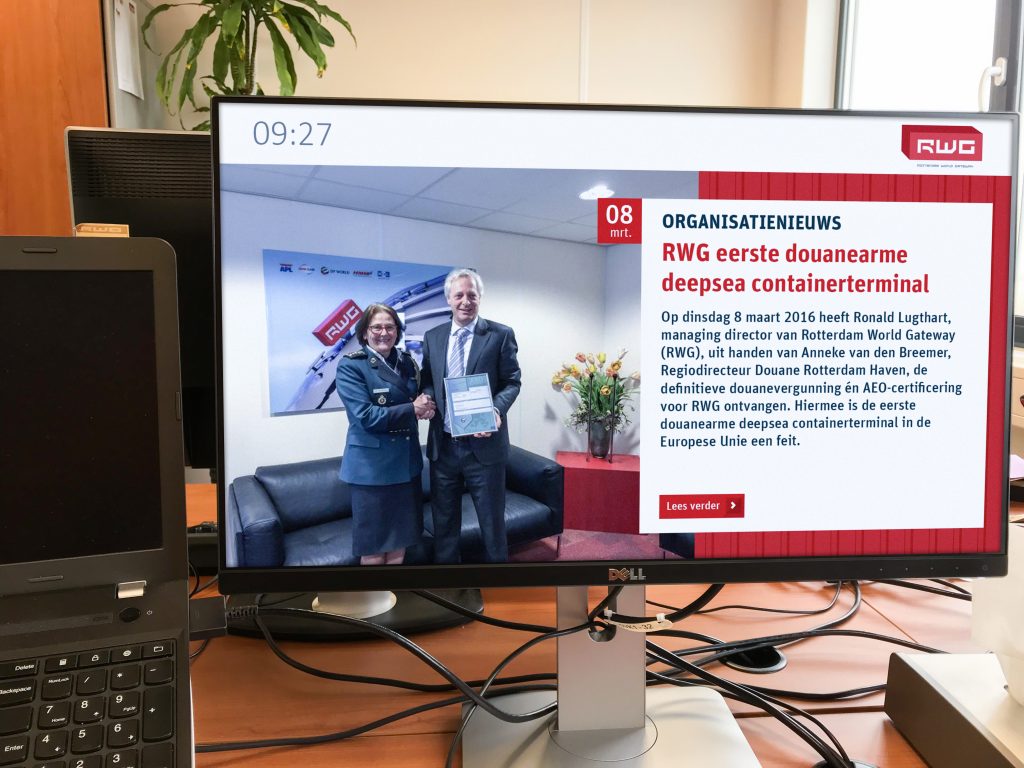 Inform and motivate
"In addition to the latest news, terminal KPIs are also communicated to our employees through Netpresenter. These KPIs, such as throughput figures and safety statistics, come directly from our operational system and are continuously updated. The beauty is that this happens completely automatically. Important weather information from our own weather station is also displayed automatically with Netpresenter ", says Dekker. "By sharing this kind of information, employees know exactly how the organization is doing. This is very important. Not only to inform them, but also to motivate them."
Quick and simple communication
"Many containers are dropped off or picked up by trucks. In front of our terminal we have a large parking area where these trucks can park before they can enter the terminal. There we have two huge LED screens that we use to welcome visitors and provide them with general information. These screens are also deployed to share useful information with the truck drivers such as fault messages, delays or unforeseen closing times. In an operational environment, you must be able to communicate and adapt information quickly and easily. That is exactly where Netpresenter's strength lies."
About Rotterdam World Gateway
Rotterdam World Gateway (RWG) provides container storage and transhipment with maximum efficiency. Seamless access to Europe: seamless transit of containers from all over the world to consumers and businesses in Europe. And vice versa.