Digital Signage screens are unique communication showpieces at Richemont
On the banks of the prestigious 'Herengracht' in Amsterdam, one of Richemont's offices is located inside a beautifully restored manor. In 2013, the Dutch office of the second largest luxury concern in the world, introduced Netpresenter to keep its employees in the loop about what's going on at Richemont, its high-end brands and the luxury market. Now, three large TV screens continuously showcase the latest news and pictures throughout the client relations department, perfectly suiting its sophisticated image.
"Before Netpresenter we briefly used a white board to keep people upto-date", says Laura Laustriat, Brand Ambassador and eCommerce at Richemont. "This was just a temporary solution. Basically, as soon as our department was founded, we started using Netpresenter. Right now, we have three large TV screens that display the latest news continuously: one in the manager's office and two in the middle of the office. For us, it's a great fit, because we have lots of news to share about Richemont and our brands. I honestly use Netpresenter every single day."
Besides internal-, luxury market- and brand news, employees are also kept up-to-date about procedure updates and team related facts. "We have drinks at the end of the week at the bar downstairs. Fun team outings, like this one, are also announced on the TV screens", explains Laustriat, who is responsible for updating Netpresenter.
Instant reactions
"Employees often look at the TV screens and I know for a fact that they actually see what it says", according to Laustriat. "The other day, for example, I posted a guessing game. A bit later, my colleagues' answers started trickling in. This wasn't surprising. I often receive reactions to posts, especially if I shared something that attracts their attention immediately like new pictures. Sometimes, I even overhear them talking to other colleagues about things I posted."
Conversation starter
Netpresenter isn't only a topic of conversation among staff members, it's also used as a conversation starter during phone calls with clients. Especially Netpresenter's weather template comes in handy to avoid lengthy silences. "The weather template is perfect to talk to our clients about the weather. We service clients all over Europe, so by having the weather forecast for specific locations like Paris, London, Munich, Milan or even Amsterdam on the TV screens in front of us, we can talk about the weather in that specific location when our system is a bit slow", says Laustriat.
Beautiful products, beautiful pictures
With eight luxury brands, including, Van Cleef & Arpels, Piaget, Vacheron Constantin, Jaeger Le Coultre, IWC Schaffhausen and Officine Panerai, in its portfolio, finding the right images to showcase is not a hard thing to do. "Beautiful products, equal beautiful pictures", says Laustriat. "To be able to show off our products even more, we display our and our brands' latest Instagram posts on all the TV screens throughout the client relations department. This is all done automatically thanks to Netpresenter."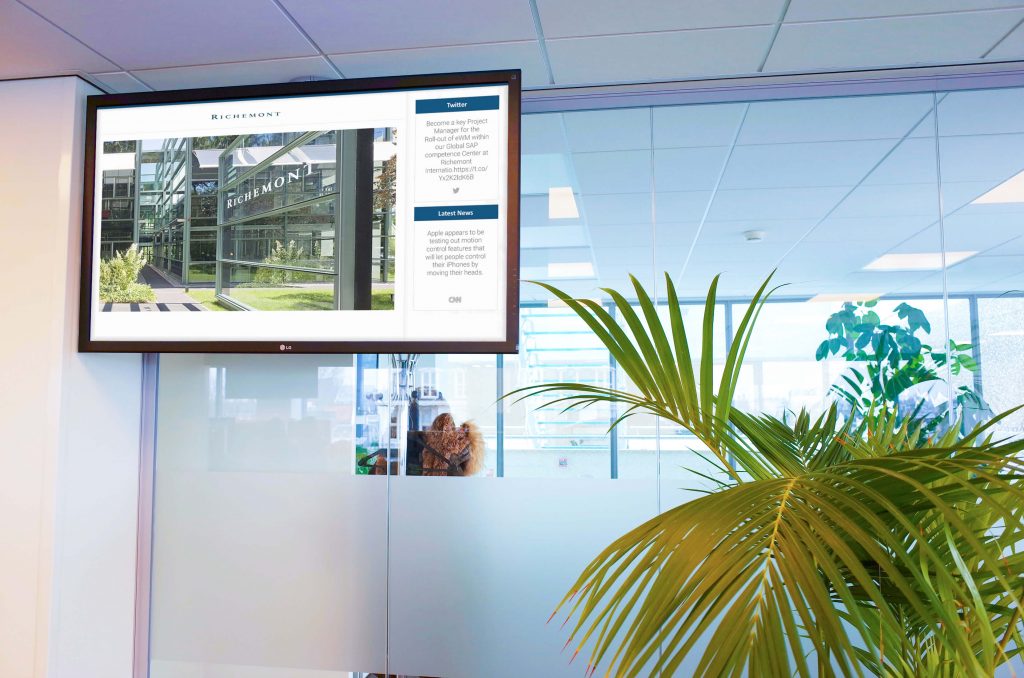 Warm welcome to newcomers
Netpresenter is also used to give newcomers a warm welcome. "When we have new hires we put a welcome message on the TV screens", explains Laustriat. These messages serve as a quick and easy introduction as well. "Before posting the welcome messages, I conduct a small interview with the starters so they can tell me a bit more about themselves and their backgrounds. These little bios are then displayed on all screens in our office. This allows everyone to get to know newcomers a bit better, without them having to repeat the same thing over and over again", explains Laustriat.
Entertaining for visitors
"We deal with a lot of clients and brands on a daily basis, so we have quite a bit of people coming to our office. The TV screens are put in specific places so not only employees, but also visitors stay up-to-date about what's new and happening at Richemont and our brands. In my opinion, this is a lot more entertaining than looking at people working in an office", laughs Laustriat.
About Richemont
Richemont owns several of the world's leading companies in the field of luxury goods, with particular strengths in high jewelry, luxury watches and leather goods. Its Maisons encompass several of the most prestigious names in the luxury industry: Cartier, Van Cleef & Arpels, Piaget, Vacheron Constantin, Jaeger-LeCoultre, IWC Schaffhausen, Officine Panerai and Montblanc.