Cross media communication no 'rocket science' for NATO C3 Agency
The C3 Agency (NC3A) is a NATO agency with offices in The Hague (NL) and Brussels (BE) and counts over 850 employees. In November 2009 NC3A opted for Netpresenter software to make their (internal) communication more effective and well-structured. Barely a month after giving the go-ahead for the implementation of the software, the first monitors were officially put into use.
An indispensable addition
"We kept getting more and more signals from within the organisation that we needed to significantly improve our internal communication. That is why we started structuring our internal communication over two years ago. Our aim was to offer our employees and visitors information the way that suited them best. That is why we now use various media, such as SharePoint (blogs, news and information), the NC3A Communicator (a bimonthly print and digital magazine) and poster campaigns throughout the building. Additional to this we have large TV screens in both buildings on which we run Netpresenter. In our opinion Netpresenter is an indispensable addition to the other communication tools that we use," says Richard van Nijnatten, creative media manager at NC3A.
Extra important for visitors
Van Nijnatten: "There are various screens carrying different information. For instance we have 'hot news' screens for general information about NC3A and NATO, screens with conference planning information, booking details and more information concerning planned conferences. There are also screens with information about planned conferences, such as speakers, topics and locations. The screens even point the visitor in the right direction using arrows to make sure they find their way to their VCT or conference room. Besides this we also have a number of smaller screens mounted alongside the doors to a number of 'virtual meeting rooms' (meeting via HD video teleconference system). These screens display the schedule for that room, that day. According to Van Nijnatten the Netpresenter screens are especially important for visitors. "As visitors do not have access to any of the other communication channels that we use internally, the TV screens are particularly important to share important information with our visitors."
Very sensitive information
The information that is broadcasted is not the same for every location. "At the moment the agency has various channels in use; NC3A News, NC3A and NATO general information, references to a range of conference rooms and a daily update on the conference room. Most of the messages are automatically generated from SharePoint. "Here at NC3A our messages often contain classified information. Not all of this information can be published via Netpresenter, that is why it is very important that messages are checked to determine if the content is suitable for publication on the TV screens. "We have implemented an extra step of the software that allows someone from the Communications Office to screen and if necessary amend messages before they are broadcast." explains Van Nijnatten.
The system is appreciated
"Netpresenter being appreciated as a communication tool shows due to the fact that not just employees send us input for Netpresenter messages, but outsiders as well. Another pointer is that people will often start talking about the system or a Netpresenter message of their own accord." says Van Nijnatten.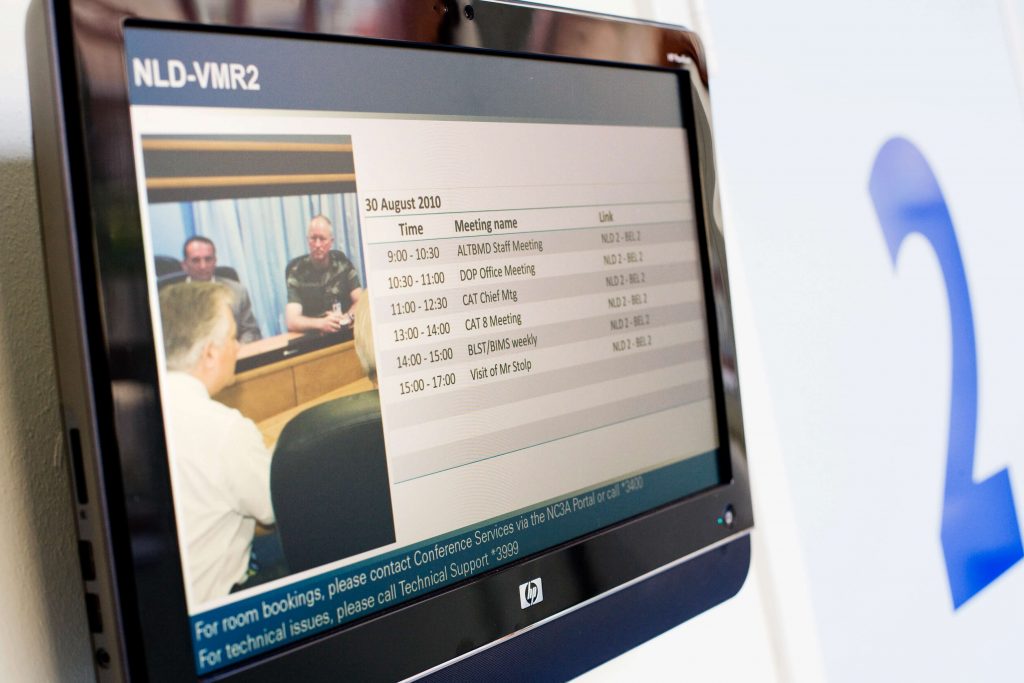 About NATO C3 Agency
The NC3A is a NATO agency that is engaged in C4ISR technologies (Communication, Command, Control, Computers, Intelligence, Surveillance, Reconnaissance). The agency supplies cuttingedge technologies to NATO organisations and NATO and PfP (Partnership for Peace) members. NC3A has over 850 employees, headquarters in The Hague and Brussels and various offices in Norfolk, USA (ACT), Mons (SHAPE), Stavanger, Kabul and Kandahar.