All medical personnel instantly alerted in case of emergency
With over 13,000 employees and a capacity of more than 1,300 hospital beds, Erasmus Medical Center is the largest medical institute in the Netherlands. Each day, the medical center hosts thousands of patients and visitors. And each day, thousands of employees contribute to delivering dedicated patient care, groundbreaking medical research and highly rated medical education.
In such a busy clinical setting, sound emergency and internal communications are essential. Since 2009, Erasmus MC has been using Netpresenter software to alert its employees on screensavers and digital signage screens; since December 2010, Netpresenter is also used for internal and corporate communications.
Instructions are actually followed
Especially in a medical center, it is extremely important that each employee is informed as quickly as possible in case of an emergency. "We have positive experiences with the Emergency Alerts: the alert messages are instantly visible to our employees, taken seriously and – even more importantly – instructions are followed. Combined with our existing alarm system, this is an extremely effective way of alerting everybody." says webmanager Vivienne van Leeuwen.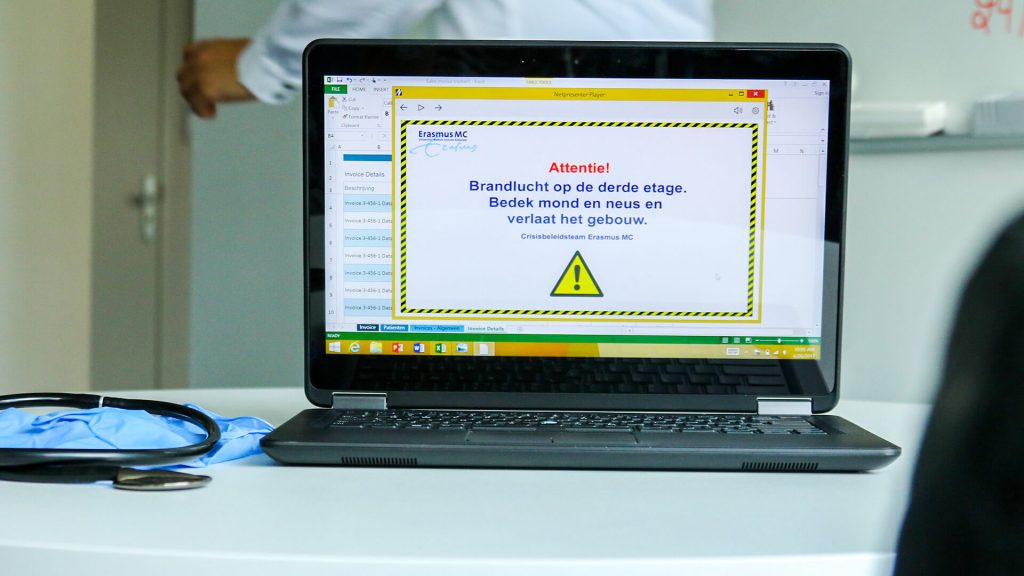 Information is seen an remembered
It is not only important to follow instructions in case of an emergency, but also in day-to-day situations at the medical center. Heleen Verwijs, responsible for internal communications at Pediatric Intensive Care, explains: "For instance, if you want to extract a fluid from a glass ampoule, you will need to use a special filter needle. To prevent splinters from the glass mixing with the fluid, it is extremely important that employees know how to do this. These kinds of procedures are broadcasted on Netpresenter; this ensures us the information is seen and remembered." Van Leeuwen adds: "The importance of being able to inform everybody in case of disaster is obvious. But you cannot neglect the importance of sound internal communications either. Our employees are more involved with the medical center, because they are better informed. And because communications on a departmental level have also improved, teams are working more closely together."
Reach employees without access to a PC
Etienne: "Netpresenter is a great way to reach employees who do not have direct access to a PC and who cannot frequently check the intranet for news – for instance, personnel in clinical areas. Those employees read the information in passing, for instance on shared PCs. Because they see the information over and over again, the message is actually taken in."
Impossible to imagine Erasmus MC without it
Souad Zgaoui is editor-in-chief of the corporate screensaver: "I have heard nothing but positive things about Netpresenter. Everybody is excited about this way of communicating. Me too. When we launched the corporate screensaver, people still had some reservations about the system, because of a few flaws in the editing process and people were not yet aware of its possibilities. After this start-up phase, employees started realizing its potential. Now, it is impossible to imagine Erasmus MC without Netpresenter as an integral part of its internal communications."
About Erasmus MC
Erasmus MC is an internationally renowned medical center in the field of patient care, research and highly rated medical education. With over 13,000 employees and approximately 2,700 students, the medical center admits over 40,000 patients and hosts more than 500,000 Outpatient Clinic visits each year. In the period from 1998 to 2009, the center released over 20,000 publications, making scientific research its flagship. Erasmus MC wants to further extend its international reputation and become one of the twenty best medical institutes in the world by 2013.