A well-balanced mix of information: everyone engaged
USG Industrial Utilities supplies utilities such as gas, water, and electricity to dozens of plants at the Chemelot Site in Geleen, The Netherlands. Therefore, USG is indispensable for the operation of this site. Within such an important organization, good internal communication is essential. That is why USG chose to use screensavers as a communication channel on all laptops and desktops in the organization. In addition, they use digital signage screens to reach their three hundred staff members, and their visitors as well. Helen Biermans, Communications Officer at USG, publishes a well-balanced mix of niceto-know and need-to-know messages via Netpresenter. This way, everyone is informed of valuable information.
'With our screensavers, we reach about ninety percent of our staff. With our digital signage screens, we reach the remaining ten percent of our colleagues and our visitors. The screens allow us to approach our visitors with practical matters, such as our Wifi code or important safety rules,' says Biermans. 'We're happy with that option. It's a fast and easy way of communicating. Besides that, we notice that people always prefer images to text. Netpresenter is a great tool for this practice. It forces you to write messages that you can read within a certain number of seconds. The format is very good.'
Increased number of intranet visitors
'Regarding the coronavirus crisis, our director regularly records a video message momentarily, to keep everyone up to date. He records them for all members of staff because many people are now working from home. We use our screens and screensavers to grab the first attention of our colleagues. We announce the video has been uploaded, and direct people to our intranet to watch it. This way, our digital signage screens and our screensavers help us to increase the number of visitors to our intranet. And I've noticed this mix of different communication channels – screens, screensavers, intranet – works best. It's the way I've reached most colleagues,' Biermans explains.
Equal attention for everyone
Via Netpresenter, Biermans shows a well-balanced mix of need-to-know and nice-to-know information. 'I publish a mix of corporate communication and messages that allow colleagues to connect,' she explains. 'For example, we try to enliven our mission and core values, things you want every employee to be aware of, by showing short messages via our screens and screensavers. I also publish reminders for events. And nowadays, we also communicate additional safety measures regarding the coronavirus, such as reminders to keep the appropriate distance from each other at the production site. But there's also room for fun facts and trivia. We celebrate someone's anniversary or someone that gets a contract for an indefinite duration, for example. Or colleagues who make an appeal to participate in sporting events together, we put that on the screens too.' She tries to give all colleagues and all kinds of information, equal attention, which makes everyone feel engaged.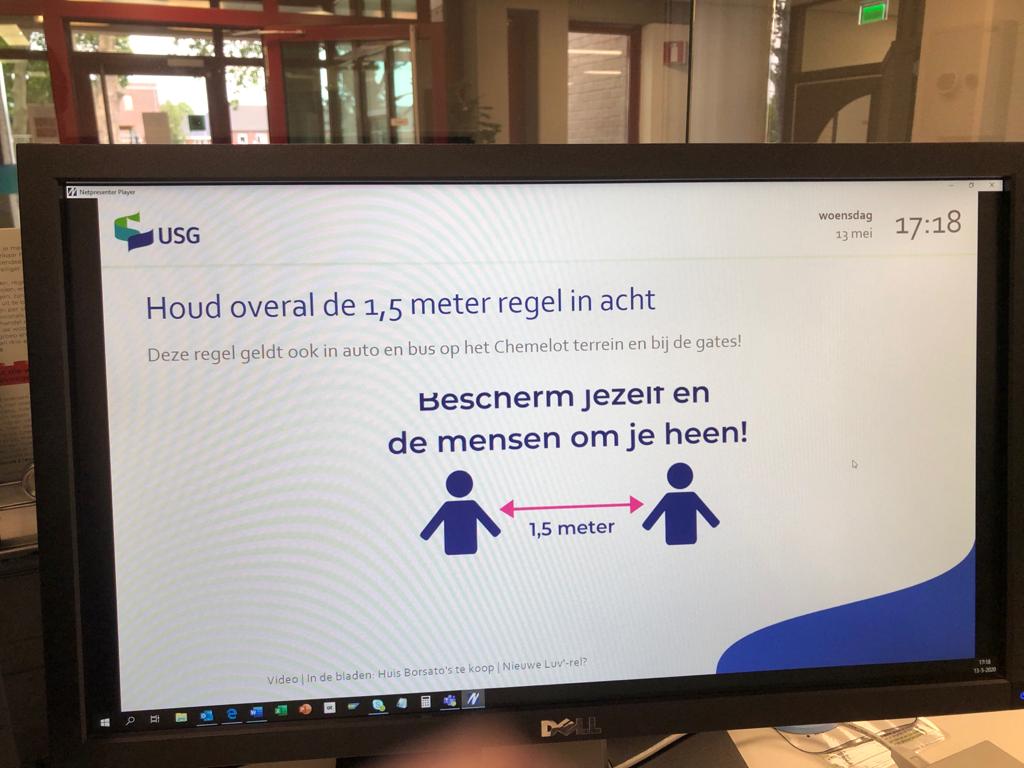 Embracing new communication channels
Colleagues had to get used to the screens, Biermans remembers. 'They got some funny reactions: 'What are we going to do with these screens, are we watching TV all day?'' she laughs. 'If you're used to bulletin boards, a digital signage screen is quite a change. But luckily, the screens were embraced very quickly.' By now, Biermans knows that her well-balanced mix of different types of messages works and is genuinely noticed by colleagues.
'Colleagues knew where to find me pretty quickly – they know that, if they want to publish something on the screens, they have to ask me. So nowadays, I also publish requests on a regular basis.'
Bright future ahead
For the future, Biermans hopes to expand the partnership with Netpresenter. 'I'm very interested in your SharePoint integration. I immediately emailed our Functional Application Manager about it, to ask why we don't use it yet.' A rosy picture of the future!
About USG Utility Support Group
USG is responsible for utilities on the Chemelot Site in Geleen. In addition to gas, water, and electricity, these facilities mainly consist of steam, nitrogen, and (compressed and metered) air. USG supplies over fifty clients on the Chemelot Site. Their products and services are indispensable for the functioning of their client's organizations.