DLL gives its intranet a boost with Digital Signage
Large TV screens bring intranet headlines to the attention of employees
In 2014, global vendor finance company DLL revealed a new brand promise: See what counts. This was implemented in all aspects of the organization. Even in its internal communication. Today, DLL reaches almost half of its 5,500 employees with Netpresenter Digital Signage. This in no less than 15 countries. By just glancing at the large TV screens installed throughout their offices, employees are not only kept upto-date on the latest news, DLL's intranet has also noticeably gained more popularity.
"Before we started using Netpresenter, we communicated with our workforce via our intranet (TrueBlue). Back then, employees had to search for the news proactively. We, however, wanted to bring the news to their attention straight away. That is when we started looking for a communication channel that allowed us to push news to our staff members, rather than having them 'look it up', says Edita Mujović, Global Digital Communications Manager at DLL. Gert-Jan Harks, Digital Communications Consultant at DLL: "Our goal was to reach people when they were at the office, but not while they were working at their desks. That is why we chose Digital Signage. With Netpresenter, news items are now automatically extracted from the intranet and published on large TV screens, called DLL Newscast screens, throughout the office. The content on these screens often includes one particular sentence: "Read more on TrueBlue ", which we add on purpose to encourage employees to visit the intranet."
Big impact
That the Newscast screens have had a big impact on DLL's internal communication is an understatement. A survey among 200 employees shows that a staggering 98 percent looks at the Newscast screens on a regular basis. To achieve this, the screens were strategically placed. "The Newscast screens can be found in our waiting areas, coffee corners and reception halls," Mujović says. "That way employees are kept up-to-date on new partnerships, awards, workshops, department results, etc. when they have a minute to take in all of this information. We try to reach our visitors the same way."
Tailored content
DLL shares two types of content with its employees: global and local news. "There are two channels: local and global", Harks explains. "Global news is shown at every office. Local news, however, is different per location. The local channel offers employees in a specific location news about their area in their own language. For example, messages about events like the New Year's reception or Christmas celebration. Weather forecasts and information about traffic jams and public transportation are shown per location as well", Harks says.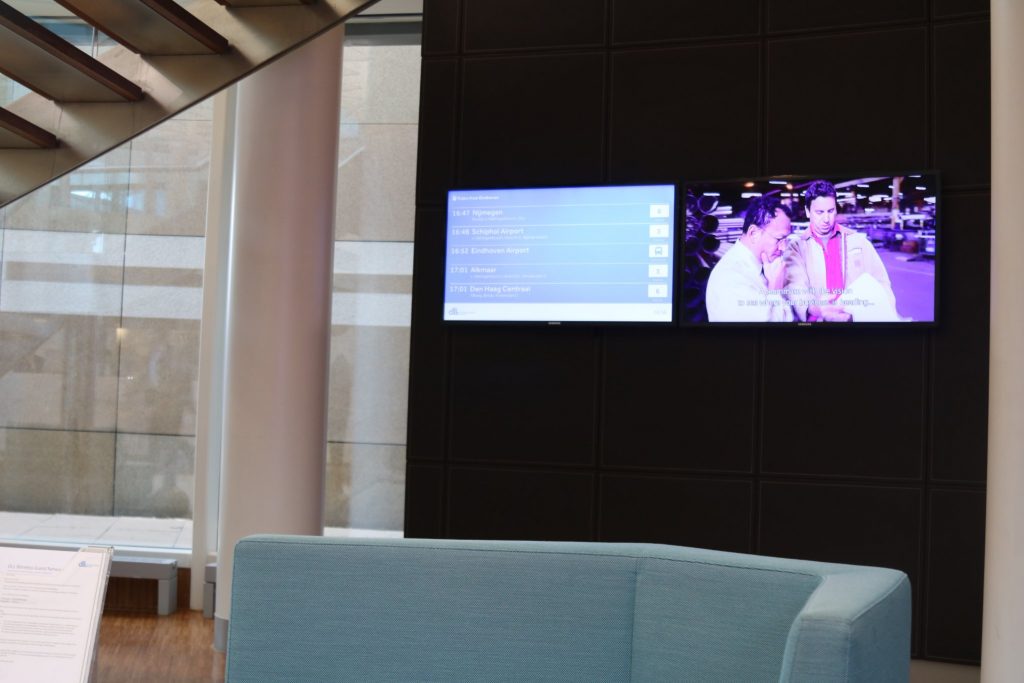 Better informed, more engaged
According to the survey, 83 percent of the employees don't only feel better informed, 77 percent admitted they also feel more engaged. 71 percent finds that the Newscast screens are an important piece of DLL's internal communications puzzle.
Future plans
Apart from the large TV screens, DLL is set to start using the Netpresenter app as well. "It is key that employees who do not have access to a computer can also be kept up-to-date and engaged. This is already achieved when employees travel to different DLL locations and see the same recognizable screens", says Mujović. "In addition, we want the same content to be visible on all screens.
About DLL
DLL is a global vendor finance company founded in 1969 and headquartered in Eindhoven, The Netherlands. DLL provides asset-based financial solutions in the Agriculture, Food, Healthcare, Clean technology, Construction, Transportation, Industrial and Office technology industries. DLL partners with equipment manufacturers, dealers-and distributors in more than 35 countries to support their distribution channels and help grow their businesses. DLL is a wholly owned subsidiary of Rabobank Group.